THE
THEOSOPHICAL
SOCIETY
IN AMERICA
Vision
has a vision of wholeness that inspires a fellowship united in study, Meditation, and service.
Mission
encourages open-minded inquiry into world religions, philosophy, science, and the arts in order to understand the wisdom of the ages, respect the unity of all life, and help people explore spiritual self-transformation.
Ethic
holds that our every action, feeling, and thought affects all
other beings and that each of us is capable of and responsible for
contributing to the benefit of the whole.
Choose from over 150 programs in the popular MP3 format. Listen online or download our FREE programs to your MP3 player. Visit
www.theosophical.org
, select the Resource menu, and click on MP3 Downloads, or
Let your friends know about these free programs!
August Specials!
20% Discount
for this months
Featured Items
Discount is available
online and by phone.
If ordering by phone,
please mention
20% August Discount
from E-newsletter.
To order please call:
1-800-669-9425 x348
Offer good until
August 31, 2008
DVD
OF THE MONTH

Some Fundamental Principles of Theosophy


by Joy Mills
44 minutes long.
Learn how the Theosophical worldview is unique.
CD
OF THE MONTH
by
Geoffrey Hodson
29 minutes long.

A literal reading of the Bible glosses over the many truths veiled by allegory, parable, and other kinds of symbolism.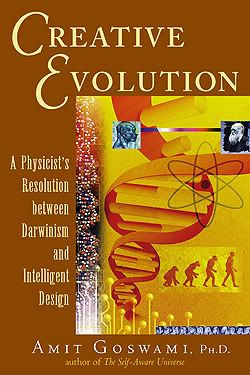 Creative Evolution: A Quantum Resolution between Darwinism and Intelligent Design

by Amit Goswami

This is a special pre-release opportunity available in August '08 for E-Newsletter readers only. To order call 630-668-1571, ext. 347.

Dr. Goswami's central theme is that pure consciousness, not matter, is the primary force in the universe. This view differs radically from mainstream theories that see evolution as the result of simple physical reactions. It also differs from intelligent-design arguments that posit a clockmaker God who fabricated the universe. Biology, Dr. Goswami says, must come to terms with feeling, meaning, and the purposefulness of life. The key is the idea of creativity in biological development, which reconciles evolution with intelligent design by a purposive designer.
Theosophist


a new community blog about theosophy with contributors from all over the world, hosted
by Chris Richardson





Enroll in our
FREE online
courses!



"Introduction to Theosophy"

"Foundations of the Ageless Wisdom"

"The Spiritual Path"


Choose instructor assisted or
independent study.




Blavatsky's Tibet: Lhasa, Everest, and Beyond!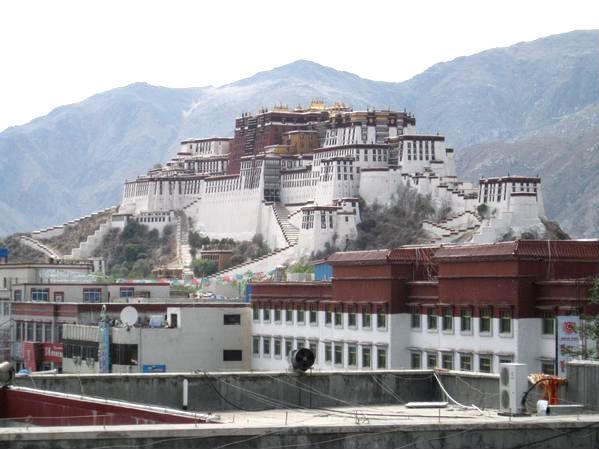 Dear Friends,
I have an important update of information about the next pilgrimage to Tibet.
TIBET IS OPEN!
This information comes from our friend, Pawan Tuladhar, in Kathmandu, Nepal. As of June 26, 2008, the areas that our Tibet Pilgrimage will explore on
October 03 - 21
are confirmed open to tourists.
August 15 is the registration cutoff date for this special pilgrimage sponsored by the Theosophical Society, Blavatsky's Tibet: Lhasa, Everest, and Beyond. This cutoff is necessary to ensure that there is plenty of time for everyone to procure Visas.
Don't miss this opportunity to follow in the footsteps of Madame Blavatsky. I imagine her spirit will be right there with you.
Happy travels,
Betty
The Journey From Darkness to Light


The Inter-American Theosophical Federation hosts this Congress at Wheaton on

September 17 - 21, 2008

. Join us and strengthen the bonds of fellowship within this international gathering of Theosophists. For more info please click here.
Radha Burnier
President of the International
Theosophical Society,
will give the opening address.
The title of her lecture is
"Traveling to the Light".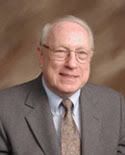 John Algeo
Vice-President of the
International Theosophical
Society, will talk about
"Our Mission as Theosophists".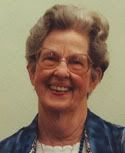 Joy Mills
former Vice-President of the
International Theosophical
Society, will speak on
"Sharing the Journey".

Mystical Heart of Christianity:
Moving Beyond Literalism
Join us at this year's National Conference on

October 31 to November 2

, 2008, in Holyoke, MA, for a stimulating exploration of esoteric Christianity. For info, click here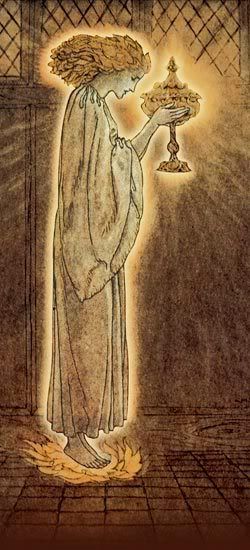 Featured Speakers:
Richard Smoley
The Future of Esoteric
Christianity
Christopher Bamford
Before Abraham Was, I Am
Rev. Jon Mundy, Ph.D.
What is Mysticism?
Roger Woolger, Ph.D.
Man of Light: The Lost
Secret of the Cosmic Christ
R
ev. Carol Parrish, Ph.D.
T
he Return of the
Absent Mother
Coleston Brown
Christianity as a Magical Way
Cherry Gilchrist
The Red Corner: The Creative
Dimension of Folk Christianity in Russia and
Beyond
Robert Ellwood, Ph.D.
Myth and Meaning in
Christianity

This will be an exciting and groundbreaking
event.
Participants will not only learn and
practice the
teachings of esoteric Christianity
but also help
shape the discussion of how it
could alleviate some
of the dysfunction evident
in religion today. Come
join us for a stimulating exploration of an ancient yet eternally fresh way
to understand the Christian approach to spirit!

September 6, 2008
Saturday, 11am to 6pm
1926 N. Main St., Wheaton, IL
Free admission, $5 on-site parking
Walk the labyrinth, enjoy vegetarian food, visit Quest Book Shop,
browse the exhibits, shop the craft vendors, explore the Olcott Library,
listen to live music, attend presentations throughout the afternoon,
join the Theosophical Society, sign up for fall programs, and relax with friends.
For more info
click here
or call 630-668-1571 Ext. 300
Chicago, IL

- The Foundation of Peace Community Project requests your participation in "The Moment of Peace Project" scheduled for

08/08/08

at

08:08 a.m.
"What if we could stop all conflict in the world for just one moment," asked the event organizer. "Would that moment have the possibility to lead to another moment of no conflict - of peace? I believe it can. Peace is not something that we need to fight for. Peace is something we need to create together."
It's easy and everyone can do it. Just observe a moment of peace on 08/08/08 at 08:08 a.m. in your time zone - wherever you are - with whomever you are with. On 08/08/08 at 8:08 am, pray, meditate, or just think of PEACE of Mind, PEACE in the family, PEACE in the community, PEACE in the World. Please pass this information along.
THE THEOSOPHICAL COMMUNITY


A new online community moderated by
The Theosophical Society in America


The Theosophical Community is an online community meant to bring theosophists together on a single online network and helps keep us connected. When you join, you can set up a personal profile, take part in discussions on the forum, upload photos and videos, keep a blog, join and form online groups and announce upcoming events. The Community is meant to serve several purposes:

Connecting members-at-large, who may not have a group near them, with other Theosophical Society members in a dynamic environment.
Providing a single, central space for Lodges/Study Centers, Federations, Camps, Retreats, and other groups and organizations to communicate with each other and announce upcoming events to theosophists everywhere.
NATIONAL CENTER IN WHEATON
CALENDAR OF AUGUST EVENTS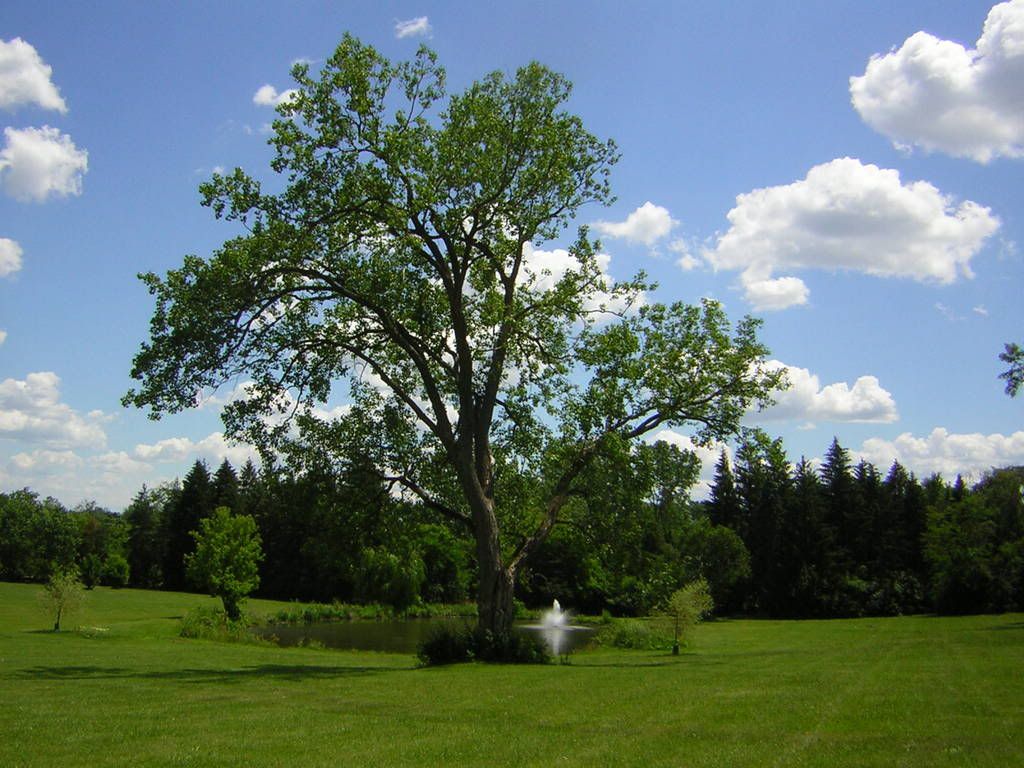 ONGOING PROGRAMS

Sundays, 11am. Meditation, led by Jim Bosco. No charge.

Sundays, 6:30 to 8:00 pm, Study Group: The Wisdom of the Advaita Teachers. Facilitators will be Sy Ginsburg, Jon Knebel, and Pam King. The text is Talks with Ramana Maharshi: On Realizing Abiding Peace and Happiness. You may join the group at any time. $5 suggested donation for each meeting.

Sundays, 7 pm. Young Theosophists meet in the family room. Geared to appeal to those in their mid-thirties or younger, this group offers discussions about some of the great Theosophical questions, as well as meditations and service projects. Free.


Wednesdays
(the second one of each month), 7:00 to 9:00 pm,
Voluntary Simplicity of West Suburban Chicago
meets here. For more information go to www.vschicagowestsuburban.org.
Wednesdays
, 12 to 1 pm.
Qigong and Tai Ji for Health
, led by Renee Ryan. Boost energy and relieve stress. Cost is an item or items for the local food pantry.
Fridays
, 7:15 to 8:30 pm.
Tai Chi Chuan
. Instructor Ben Furman has over 20 years of experience in martial arts. All levels welcome. Cost is $10 per class, $9 for members. Stay afterwards for a social hour and the chance to watch a DVD with a Theosophical theme.
No class August 15.
For any of these programs you can get more info from
our website
or by calling 630-668-1571, ext. 300.
NEWS FROM MEMBER SERVICES
NEW! Our ZIP code has been changed to 60187 here at the National Center in Wheaton, effective July 1, 2008.



Now you can renew your membership Online
!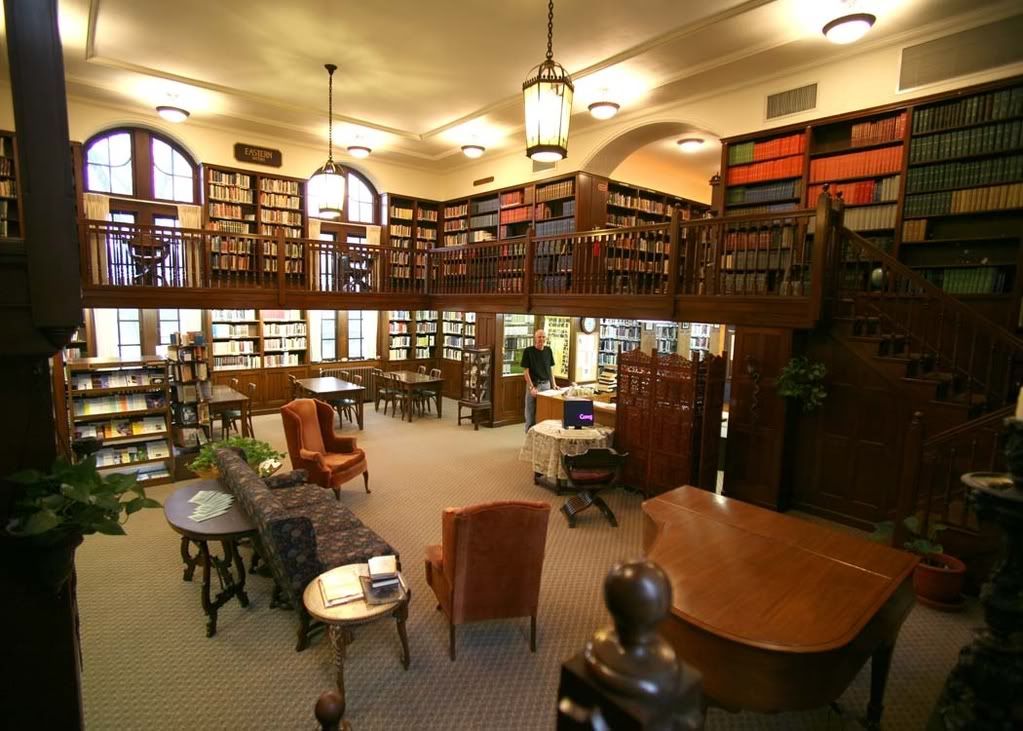 Library Main Page
Request for volunteers!
Volunteers needed to greet visitors and answer the telephone in the main lobby Tuesdays, Thursdays, Fridays and Saturdays between 10am and 4pm. Volunteers receive a free vegetarian lunch between 12 - 1 pm, free passes to classes and lectures, and a 20% discount at Quest Book Shop! Contact 630-668-1571 Ext.315



THE 122nd SUMMER NATIONAL GATHERING

The 122nd Summer National Gathering began on July 25, 2008. This year's theme was "Understanding Ourselves in the Cosmos".
Every day began with an offering of yoga, breakfast,
and meditation -yes, in that order.
This was followed by mental feasting on challenging ideas and delicious words.
Ravi Ravindra and Amit Goswami gave public talks
on Saturday, followed on Sunday by an hour in dialogue
that will long be remembered by all who attended.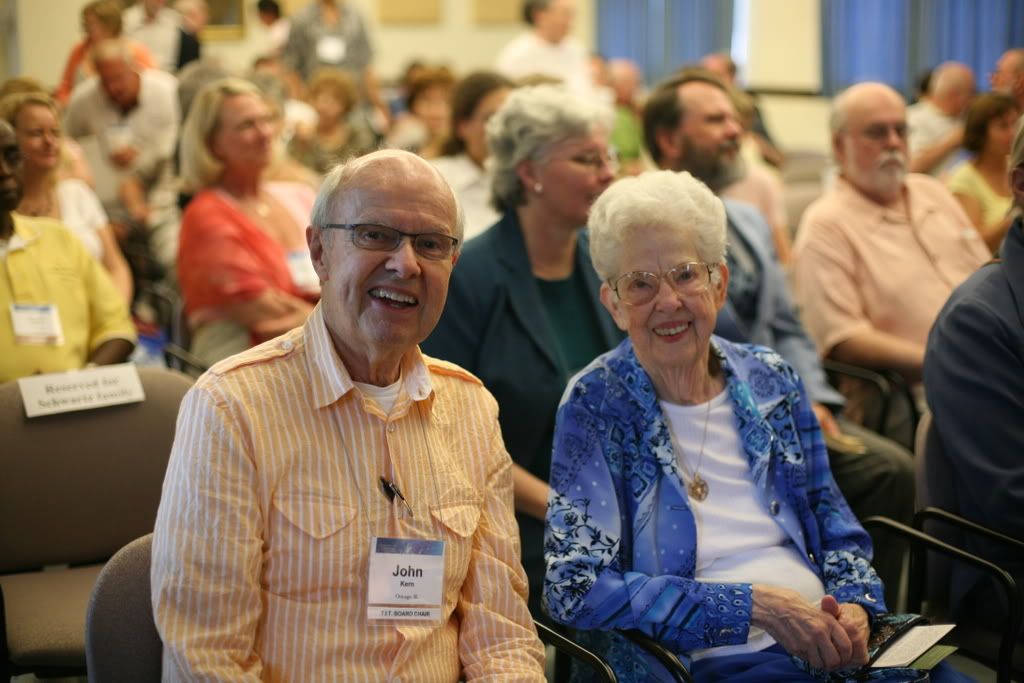 Old friends John Kern and Joy Mills reconnect.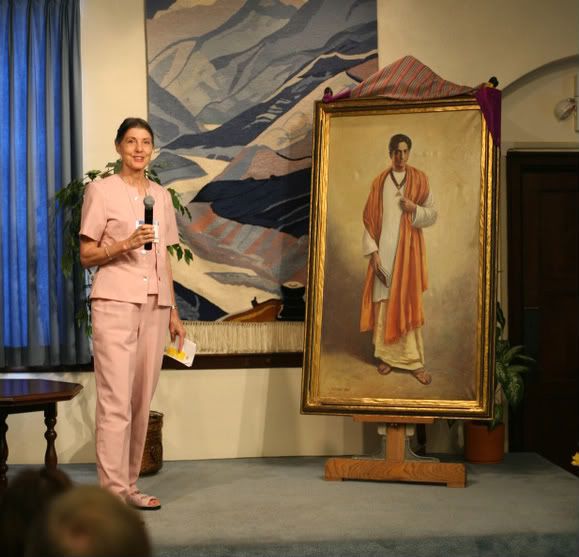 Betty unveils a remarkable painting of J. Krishnamurti donated
by Vernon Schwartz, descendant of the artist, Henry Schwartz.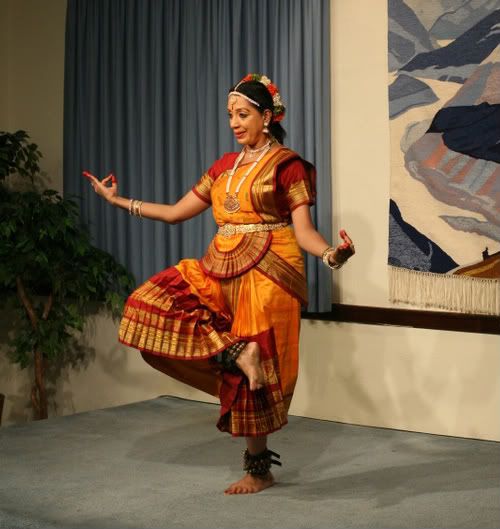 Spiritual entertainment was provided by
Uma Goswami, a delight to all.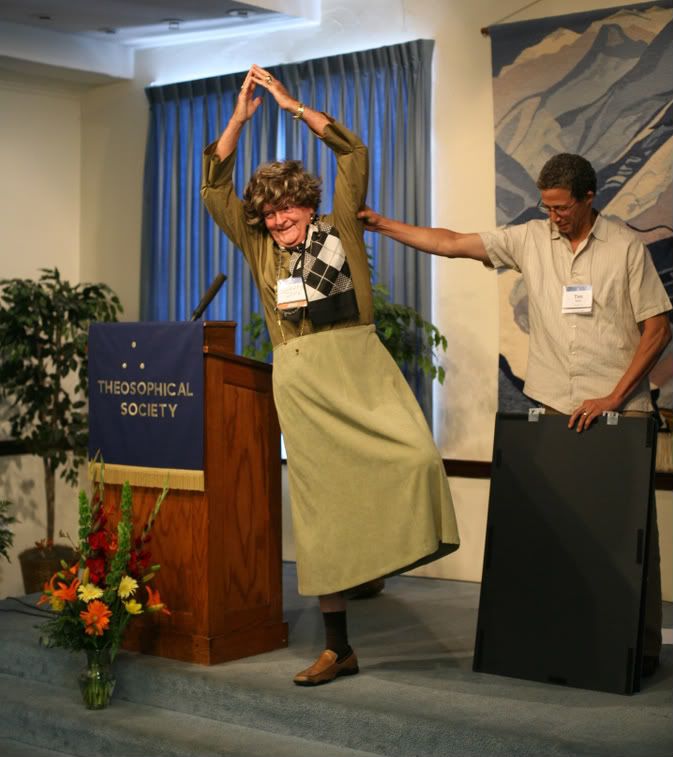 When publishing manager Sharron Dorr was unable to attend
the Business Meeting, David Bland ably stood in for her.
Tim Boyd prevents "Sharron" from toppling over.
"Spiritual progress is when one becomes free not only of the knowledge which is inevitably from the past, but also from the need to know... and a desire to predict and control."

- Ravi Ravindra