THE
THEOSOPHICAL
SOCIETY
IN AMERICA
Vision
has a vision of wholeness that inspires a fellowship united in study, Meditation, and service.
Mission
encourages open-minded inquiry into world religions, philosophy, science, and the arts in order to understand the wisdom of the ages, respect the unity of all life, and help people explore spiritual self-transformation.
Ethic
holds that our every action, feeling, and thought affects all
other beings and that each of us is capable of and responsible for
contributing to the benefit of the whole.
Choose from over 100 programs in the popular MP3 format. Listen online or download our FREE programs to your MP3 player. Visit
www.theosophical.org
, select the Resource menu, and click on MP3 Downloads, or
Let your friends know about these free programs!
June Specials!
20% Discount
for this months
Featured Items
Discount is available
online and by phone.
If ordering by phone,
please mention
20% June Discount
from E-newsletter.
To order please call:
630-665-0130 x348
Toll Free:
800-669-9425 x348
Offer good until
June 30, 2008
DVD OF THE MONTH
2 DVDs.

120 minutes long.
We're living in a critical transformative period. What are the implications of this extraordinary dynamic?
CD
OF THE MONTH
Audio CD.
51 minutes long

When did violence and religion become intertwined in the minds of so many thoughtful people today?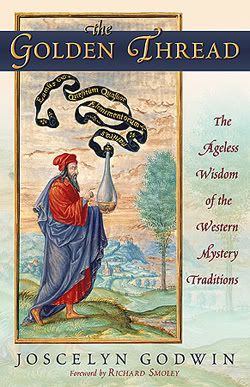 The Timeless Wisdom of the Western Mystery Traditions
Joscelyn Godwin

The Golden Thread weaves deep insights into the history of Western esoteric thought, revealing its hidden though foundational impact on the modern world. Joscelyn Godwin's clear voice guides and expands our understanding in unexpected and rewarding ways, illuminating fascinating and little explored areas of the perennial philosophy.

PLEASE VISIT
a new community blog about theosophy with contributors from all over the world, hosted
by Chris Richardson.
NATIONAL CENTER IN WHEATON
CALENDAR OF JUNE EVENTS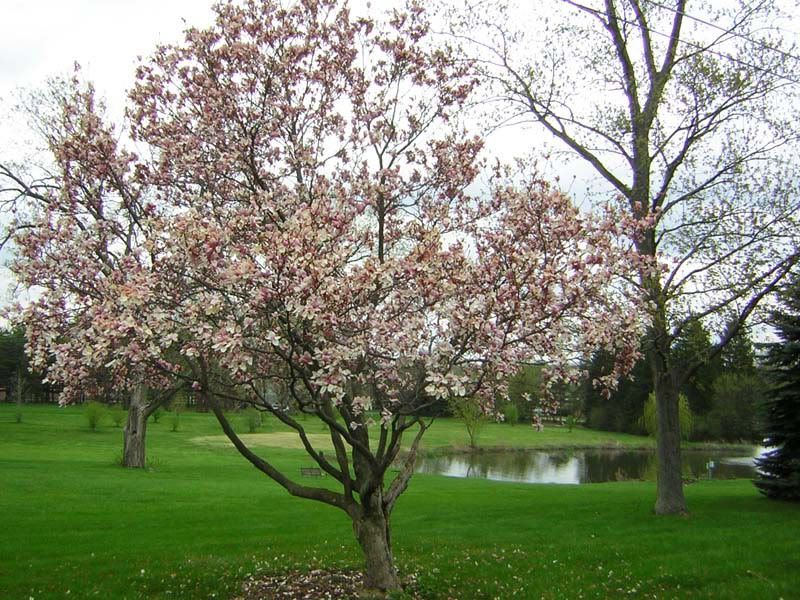 http://www.theosophical.org/events/nationalprograms/index.php
Tai Chi Chuan, Friday evenings, ongoing, from 7:15 to 8:30 at the Theosophical Society, 1926 N. Main St., Wheaton. Teacher Ben Furman has over 20 years of experience in martial arts. Cost is $10 per class, $9 for members. All levels are welcome. For more information go to www.theosophical.org or call 630-668-1571, ext. 300.
NEW!! After Tai Chi, students and the Theosophical Society staff are invited to stay for a social hour and viewing of a Theosophically based DVD.

Hatha Yoga
, Tuesday evenings ongoing through July 22, from 7 to 8:30 p.m. at the Theosophical Society, 1926 N. Main St., Wheaton. Instructor Pamela Meyers is a graduate of the Kripalu Yoga teacher training and instructor Christine Cipra earned her teacher certification from the Vivekananda Ashram in India. Enjoy increased health, vitality, and self-awareness. Each class is $13. For more information go to
www.theosophical.org
or call 630-668-1571, ext. 300.
Hatha Yoga
, Saturday mornings ongoing through July 19, from 11 a.m. to 12:15 at the Theosophical Society, 1926 N. Main St., Wheaton. Leader Ellen Duff is a graduate of the White Lotus Foundation teacher-training program. Come and relax your mind, body, and spirit while you enjoy the extraordinary health benefits of yoga. Cost is $11 per class, $10 for members. For more information go to
www.theosophical.org
or call 630-668-1571, ext. 300.
Meditation
, Sunday mornings at 11a.m. ongoing at the Theosophical Society, 1926 N. Main St., Wheaton. Jim Bosco will lead the meditation. There is no charge. For more information go to
www.theosophical.org
or call 630-668-1571, ext. 300.
Study Group: The Wisdom of the Advaita Teachers
, Sunday evenings from 6:30 to 8:00 ongoing at the Theosophical Society, 1926 N. Main St., Wheaton. Facilitators will be Sy Ginsburg, a past president of the Miami, Florida, TSA, who met Nisargadatta in India in 1979 and 1981; Jon Knebel, a student of Theosophy; and Pam King, a student of Nisargadatta's. The text is
Talks with Ramana Maharshi: On Realizing Abiding Peace and Happiness
. Each week we select a psychological self-awareness exercise to work on during the week. We share our self-observations at the following meeting. You may join the group at any time. There is a suggested donation of $5 for each meeting.
Voluntary Simplicity of West Suburban Chicago
, which ordinarily meets at the Theosophical Society on the second Wednesday of each month, will be hosting a barbecue at the home of Ted Lowe, 2003 Paddock Ct., Wheaton. The barbecue takes place on Wednesday, June 11, any time after 6 p.m. It's BYOG, bring your own grillable, and a dish to share. All are welcome!
CANCELLED
for June 12, the Patrice Chaplain program, One Woman's True-life Journey to the Heart of the Grail Legend.
CANCELLED.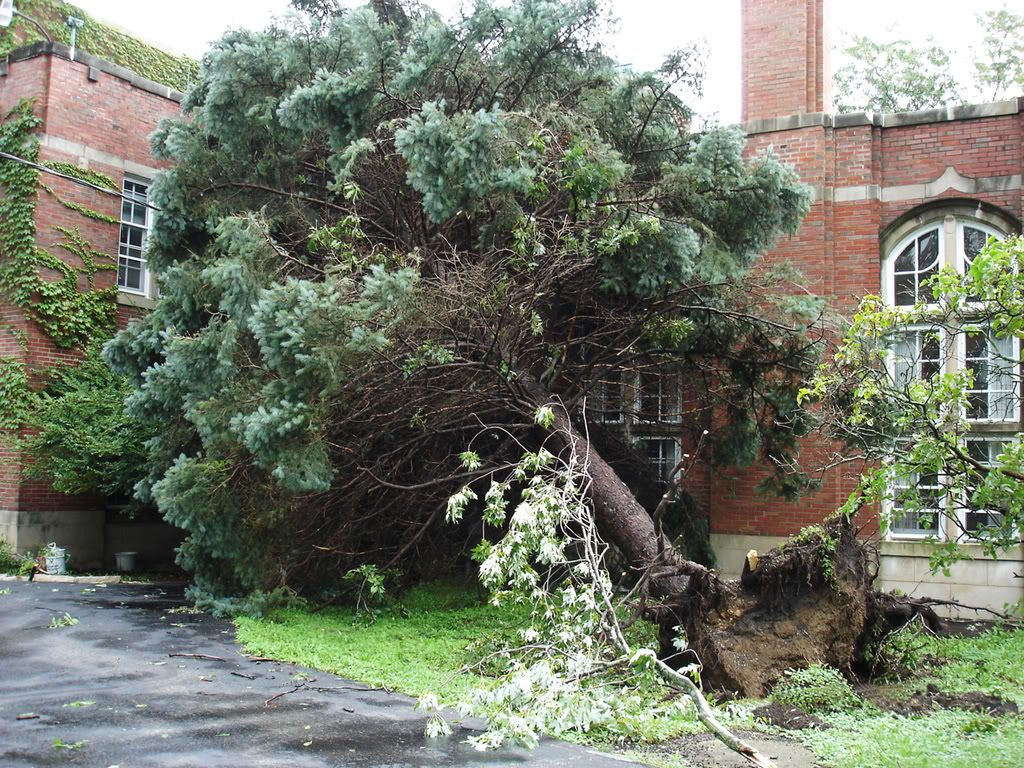 On August 23, 2007, at 3:07 p.m., an F1 tornado blew through the National Center in Wheaton, doing serious damage to our woodland. We were fortunate in that there were no injuries and the buildings were unscathed; but 50 trees were blown down, or so badly broken that they needed to be removed. Hundreds more were damaged, but salvageable.

Since the call went out for specially targeted donations to replace the lost trees, the response has been gratifying. Grounds Director Mark Roemmich says, "Over 40 members have donated so far, including several lodges." There is still a need for more

donations in order to implement the plan to replace all the lost trees at a pace of 15 trees each spring. Each tree will wear a marker with the name of the donor, or donors, a tradition that began even before the cornerstone was set at the Rogers Building here in Wheaton. If you are interested in helping out with replanting efforts, you can call Mark at 630-668-1571, ext. 334, or email him at mroemmich@theosophical.org.
May in Illinois is a good month for planting trees. On May 6, 2008 we began our replacement project with a variety of youngsters, including the two pictured. This auspicious date turned out to be a very special one indeed; the first tree planted here was on May 6, 1925. Helping out with the planting are David Bland, David Bruce, John Cianciosi, Ben Furman, Richard Kerrill, Mark Roemmich and Pablo Sender.



Mrs. Cassie (Taffinder) Hill donated $2 on July 16, 1929.
Her name endures on this tree marker.
NEWS FROM MEMBER SERVICES
Now you can renew your membership Online!
The 122nd Summer National Gathering of the Theosophical Society in America
July 25 - 29
, 2008, with a Study Extension
July 30-31
. Come for the beginning, come for the end, come for a day, or come for all of it.
Saturday, July 26, is open to the public. The rest of the days are for TSA Members only.
Key Speakers: Amit Goswami, Ravi Ravindra and Joy Mills.

Don't Miss
"What Theosophy teaches us concerning our place in the Cosmos" with David Ely, Cynthia Tabaya, Claradene Wycoff, and Ruth Mills.
Blavatsky's Tibet: Lhasa, Everest, and Beyond!
F
ollow in her footsteps. Glen Mullin will lead you on an amazing journey. October 3 - 20, 2008. www.mysticaltibet.com.
The Journey From Darkness to Light.
The Inter-American Theosophical Federation hosts this Congress at Wheaton on September 17 - 21, 2008. Join us and strengthen the bonds of fellowship within this international gathering of Theosophists. For info, go to: http://www.theosophical.org/events/news/IATF.php.
Mystical Heart of Christianity: Moving Beyond

Literalism
REGIONAL UPCOMING EVENTS
Ozark Theosophical Education Center and Camp
June 5-8, 2008, Sulphur Springs, Arkansas. Major topics will be "Esoteric Legends, Stories, and Traditions", "Chinese Metaphysics", and "Feng Shui". Rooms will be available for $33 a night, with an additional charge of $5 for each additional person. A vegetarian meal plan is also available at a cost of
$35 per person for the weekend. The program fee is $20 for singles and $35 for couples. For more information call Nancy Blott at 405-412-1971, or write to Elwin Barrett, President, 1020 N. Harding St. Wichita, KS 67208.
September 6, 2008
Saturday, 11am to 6pm
1926 N. Main St., Wheaton, IL
Free admission, $5 on-site parking
Walk the labyrinth, enjoy vegetarian food, visit Quest Book Shop,
browse the exhibits, shop the craft vendors, explore the Olcott Library,
listen to live music, attend presentations throughout the afternoon,
join the Theosophical Society, sign up for fall programs, and relax with friends.
For more info
click here
or call 630-668-1571 Ext. 300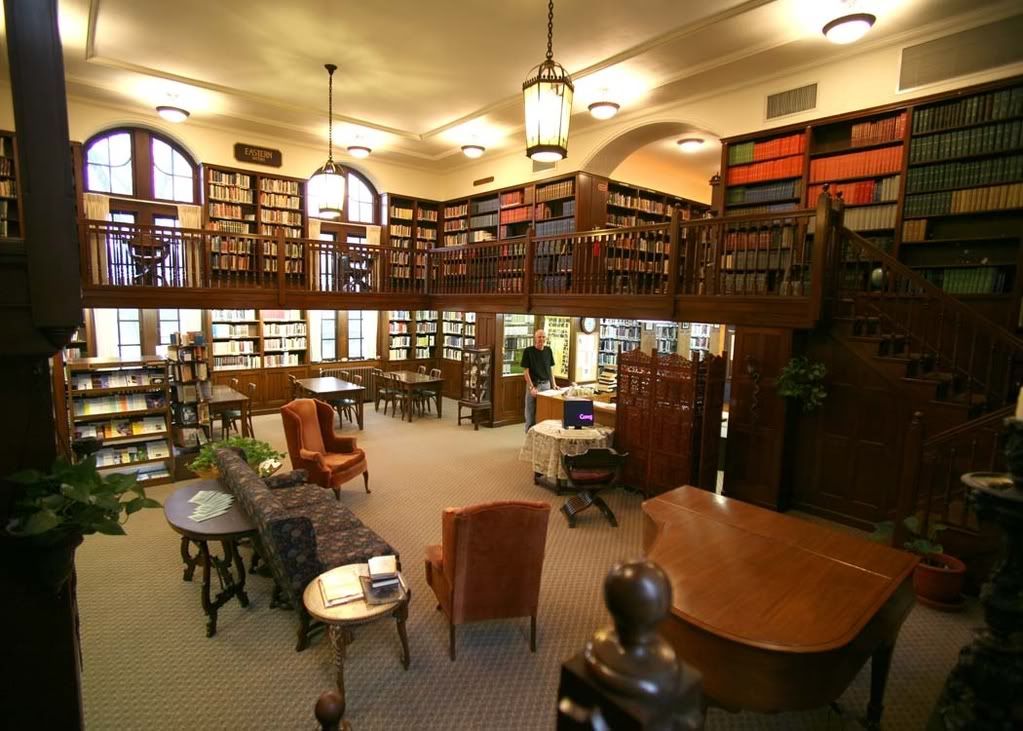 Library Main Page
Theosophical Study Group
On Wednesdays, beginning May 7, between 7pm - 8:30 pm, there will be a Theosophical Study Group that meets in the Library. It is open to all. Reading and discussion will be the format of the group with snacks and socializing taking place between 8 pm - 8:30 pm.

Contact

library@theosophical.org or call 630-668-1571 Ext.304 with questions.
"Knights in the Morning" - Saturday Morning Chess

Play chess in the beautiful Henry S. Olcott Memorial Library every Saturday morning between 10:00 a.m. and noon, at the Theosophical Society, 1926 N. Main St., Wheaton. All levels of players are welcome. For more information or to print a flyer,
click here
.
STORYTELLING
AND CAMPOUT
On Summer Solstice,
June 21
, the Friends of Olcott and the Order of the Round Table will present the Theosophical Society's first Storytelling Carnival and Campout.
Click here to see the schedule
. From 1-6 pm, storytellers will perform tales of nature, magic, love, and enchantment. This festive afternoon will also feature craft making, a book sale, carnival games, and live music.
Friends of Olcott is a new organization to benefit the Henry S. Olcott Memorial Library through FUNdraising and other exciting activities. Friends of Olcott have sponsored the successful Open Mic Soirées and a Hootie-Hoo Dance (a dance to scare winter away).
The Order of the Round Table, based upon the noble principles exemplified in the activities of the legendary King Arthur and the Knights of the Round Table, is an organization open to all ages who are called to inspire goodness through actions of service and by developing in themselves a virtuous life.
A campout will follow at 6 pm, beginning with a brief, summer-themed play. The campout, for those aged 8 and older, will include dinner and breakfast, stories, and singing by the campfire. There is a ten dollar fee per person to camp and pre-registration is required. A parent or legal guardian must accompany all children. Please call 630-668-1571 x304 to register or you can print registration forms here.
We need volunteer help for craft booths, refreshments, and carnival activities. Contact

library@theosophical.org

or 630-668-1571 Ext.304
Request for volunteers!
Volunteers needed to greet visitors and answer the telephone in the main lobby Tuesdays, Thursdays, Fridays and Saturdays between 10am and 4pm. Volunteers receive a free vegetarian lunch between 12 - 1 pm, free passes to classes and lectures, and a 20% discount at Quest Book Shop! Contact 630-668-1571 Ext.315
"Never forget that life can only be nobly inspired and
rightly lived if you take it bravely and gallantly, as a splendid adventure in which you are setting out into an unknown
country, to face many a danger, to meet many a joy, to
find many a comrade, to win and lose many a battle."

ANNIE BESANT