October
Specials!
30% Discount
for this month's
Featured Items
Discount is available
online and by phone.
If ordering by phone, please call
1-800-669-9425 x348
and mention the October E-Newsletter discount.
Offer good until
October 31, 2009
Indra's Net



Alchemy and Chaos Theory as Models for Transformation


by
Robin Robertson
When ordering online or by phone, use the code
ENEWS
to receive the 30% discount.
DVD
OF THE MONTH

A panel of scholars and practitioners explore the contributions of Buddhism to the interfaith movement. (49 minutes)
CD
OF THE MONTH
by
Will Ross
The path of karma as given in the writings of H. P. Blavatsky. (38 minutes)
Follow The Theosophical Society in America on
Facebook Fanpage and Twitter!
Special Workshops
~
Sign up now!
The Mayan Calendars,
a Hands-on Workshop

With Barbara (BJ) Sadtler
Saturday, October 10, 1:30 - 5:30 p.m.
The Mayan sacred and Long Count calendars, used properly, may unveil our soul's purpose, and amplify our intentions for each day. Practice creating a chart for yourself and for those close to you. An extensive handout, containing research and additional information, is included.
The Five Stages of Mahamudra:
the Oral Transmission from
Milarepa and Gampopa
With Glenn Mullin
Saturday, November 7, 10 a.m. - 4:30 p.m.
Today is a day of instruction, guided meditation, and joyful experimentation with the Tantric Buddhist yogic technology that grants the power to access the natural perfection of every moment. It is based on the transmission from the early Kargyu masters, as received and clarified by Tsongkhapa and the Seventh Dalai Lama.
Thursday Lectures
The Year 2012: Ecstasy or Catastrophe?
With Barbara (BJ) Sadtler
Thursday, October 8, 7 p.m.
Your Life in Numerology
With Claradene Wycoff
Thursday, October 15, 7 p.m.
We Are Not Alone: Interdimensional Communication
With Atala Toy
Thursday, October 22, 7 p.m.
Global Perspectives on Interfaith Dialogue
With Zabrina Santiago
Thursday, October 29, 7 p.m.
SUMMER NATIONAL GATHERING IN JUNE!
"Nature: Gateway to Sacred Treasure"
June 25 through June 29, 2010

Featured Speakers:
Dr. Scott Olsen

,

The Golden Section: Nature's Greatest Secret
Jonathan Zimmer

,

Bridge Over Treasured Waters: Mathematics, Metaphor, and the Weird and Wonderful Gap between Thing and No Thing
Kathryn Gann

,

Journey into Beauty: How Nature Supports our Every Step
Nancy Rhodes

, Opera Reading:

The Theory of Everything
This is going to be a great gathering. Stay tuned!
After the Theosophical World Congress in Rome



The Theosophical Society in America is pleased to announce a special week-long tour of Italy. This tour will provide the opportunity to experience the beauty, history, and spiritual heritage of this fascinating country. We will explore art, architecture, ruins, and religious traditions in Rome, Pompeii, Pisa, Assisi, Florence, and Venice! Read more

THE FUTURE OF THE THEOSOPHICAL SOCIETY


Visioning Project
Do you want to help us identify priorities as we move forward with our plans for the future of the Theosophical Society?
Initiated by our national president in February 2008, a "Strategic Visioning Committee" was formed to consider the future health and well-being of the TSA.
Board members are making presentations all over the Section and soliciting input from members. If you have not been able to participate, we ask for your valuable contribution. Please fill out a questionnaire that is available online and can be returned to us by either mail or e-mail. For further information and how to participate, please visit Visioning Project any time before January 15, 2010.
The Green Fair at Cantigny
Park
On Saturday, September 26 members of the Theosophical Society in America participated in the first annual Green Fair at Cantigny Park as part of our work towards being more environmentally aware and affirming our commitment to the environment.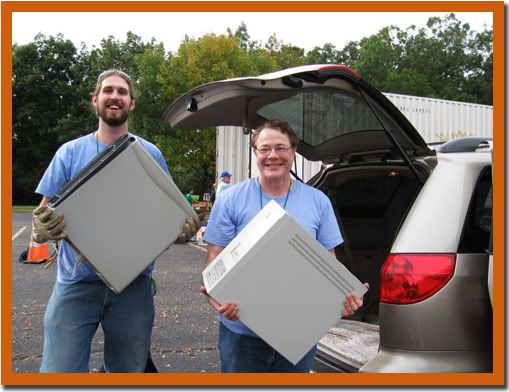 Along with composting, energy conservation and recycling, the TS participation at this fair was the final step toward earning our Earth Flag from the local environmental group SCARCE
Nine TS volunteers spent the day helping in various educational booths, recycling electronics, and the ever popular set-up and tear-down.
2009 ANNUAL MEETING AND ELECTION
"The Human Pilgramage"
Keynote speaker: MARTIN LEIDERMAN
Hosted by The Theosophical Society in Portland
2377 NW Kearney Street
Portland,Oregon 97210
(503) 223-6861
Discount Overnight Lodging is available.
Please visit www.nwfed.org for details.
R. S. V. P. to Samuel Bell-Stalnaker: nwtheosophists@yahoo.com
Our Wish List contains items that a gift purchaser can obtain from a variety of retailers. It is a list of items the library would like to have available to library users or that may directly benefit the operation of the library. Links to where items can be purchased are available but only as a suggestion. This Wish List offers an additional way in which you can make a contribution to your library.
Rare

&

Used Books for Sale
Lucifer: A Theosophical Magazine edited by H.P. Blavatsky

&

Annie Besant. This occult magazine is increasingly difficult to find. Lucifer is
designed to bring to light the hidden things of darkness. This volume
contains the issues from September 1889 to February 1890. A worn
book, but a major and fascinating part of Theosophical history.
$125.00
Match Our Grant!
The library was awarded a grant of $25,000 by the Illinois State Library. Our circulation and visibility has already greatly increased, but we need your help to
match our grant!
"You can't stop the waves, but you can learn to surf."

Jon Kabat-Zinn