30% Discount
for this month's
Featured Items
When ordering online or by phone, use the code ENEWS to receive the 30% discount.
To order by phone,
please call
1-800-669-9425 x347
Offer good until
February 28, 2011

DVD
OF THE MONTH
Recent Experimental Evidence
by

Rupert Sheldrake


Scientific experiments have supported the existence of telepathy.
(56 minutes)
OF THE MONTH
by
Phoebe Bendit

A clairvoyant describes the subtle workings of the etheric field within the human body. (56 minutes)
Book
OF THE MONTH


Russian Magic
Living Folk Traditions of an Enchanted Landscape
by
Cherry Gilchrist
(The Aura)
by
Walter J. Kilner

In his book, Dr. Kilner presents "scientific evidence" for the existence of the aura. The author researched this subject from an unbiased standpoint and did not read any accounts of the aura until a large number of patients had been inspected. Included are 28 figures and a list of tables and 42 cases which are discussed within the book.

Virtual Classroom
This month TSA will begin offering virtual interactive classes that go beyond our usual webcast lecture format. Now you can participate with other students and the teacher in real time from the comfort of your favorite armchair.
Sunday, February 13, 7 PM
With John Algeo
Saturdays in March, 10 AM
With Juliana Cesano

THEOSOPHICAL CLASSICS BACK IN PRINT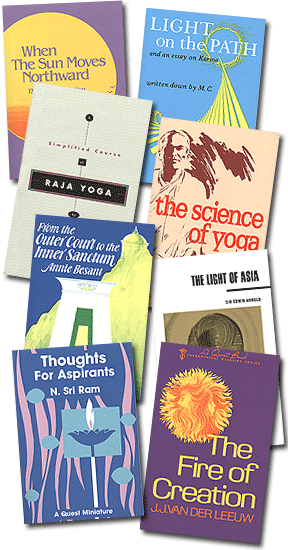 is proud to announce
the re-release
of popular
theosophical
classics.
Live Webcast: Practical Sufism
Thursday, February 3, 7 PM
With Phillip Gowins
Thursday, February 10, 7 PM
With Kristina L. Sargent,
Love, Compassion, and Enlightenment:

Art, Science, and Meditation
Thursday, February 17, 7 PM
With Glenn H. Mullin
Live Webcast: Good Karma Divorce
Thursday, February 24, 7 PM
With Michele F. Lowrance
Did you see the Dalai Lama in 1981?
In July we will be celebrating the 30th anniversary of the visit of His Holiness the 14th Dalai Lama to our National Center. If you were in the audience when he spoke to members, please let us hear about that experience. Our Archivist is collecting personal accounts and photographs from July 1981. Contact Janet Kerschner at 630.668.1571 ext. 353 or archives@theosophical.org
And GET READY! The Dalai Lama will participate in a TSA-sponsored event in Chicago sometime in 2012.
Get your 1988 Collector's Edition of The American Theosophist
TheoSophia: Celebrating 100 Years of The Secret Doctrine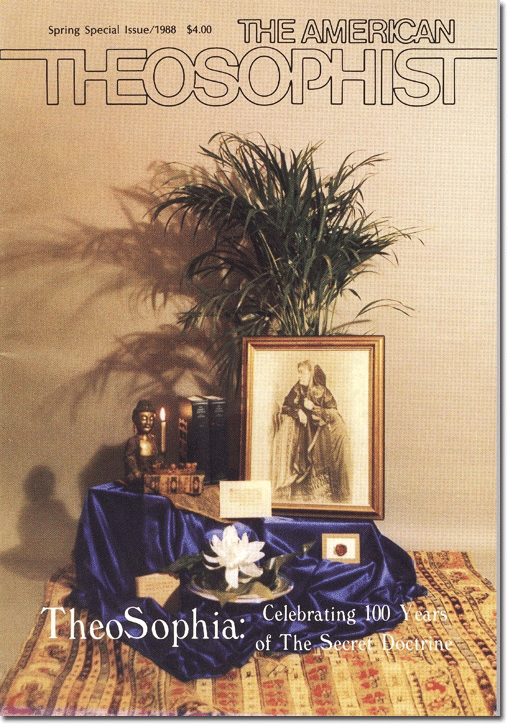 Regular price: $4.00
Special offer: $2.00 (plus shipping)
This Collector's Edition of the 1988 American Theosophist celebrates 100 years of The Secret Doctrine with articles by Ed Abdill, Stephan Hoeller, Aryel Sanat, and other luminaries.
To order, call 1-800-669-9425, ext. 347. Mention product number 1530.
HENRY S. OLCOTT MEMORIAL LIBRARY
First Tuesday of the month 6:30-7:30 PM (January through May) Develop and reflect upon spiritual practice with Tim Boyd, vice-president of the Theosophical Society in America.
Open Mic Soirée [An Evening Party]
Saturday February 26, 7-10 PM
Enjoy an evening of music, comedy, and poetry, with tea, coffee, goodies, and games. $5 per person --Free to performers and those bringing vegetarian treats to share.
"Meditation means this opening out of the soul to the Divine and letting the Divine shine in without obstruction from the personal self. Therefore it means renunciation. It means throwing away everything that one has, and waiting empty for the light to come in."

~Annie Besant